Screen Print Color Chart
Screen Print Color Chart. Click on the color chart to see a high resolution image. Custom Green Promos is your top source for eco friendly promotional products. We offer a complete selection of green bags and custom reusable shopping bags. View all of our products at customgreenpromos.com. You can also visit us at Bag Promos Direct too!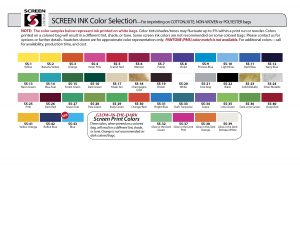 We are the top choice for promotional items for your next marketing campaign. From eco tote bags to recycled lanyards wholesale, you found the right company. In fact, all of our products are high quality and affordable. Call today for pricing on reusable grocery totes and cheap reusable grocery bags. Our sparkle imprint process is a great option to choose from. Choose from all options here.
Our staff is very friendly and experienced. Therefore they ordering process will be fast and easy. In addition to that, our products are all very affordable. As a result, you will be able to stay within budget. Furthermore, our products are eco friendly and great for the earth.